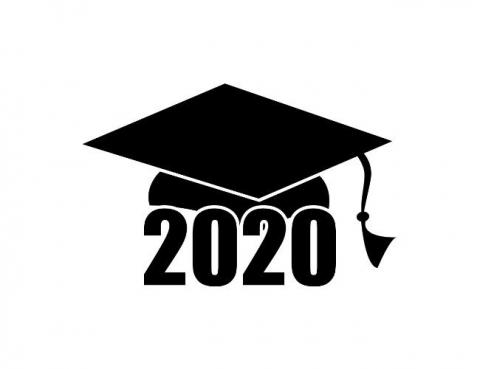 If you did not receive your graduation package, please stop by the school office to pick it up.
Thank you!
June 5th, 2020
Dear Grade 12 Grad and family:
Congratulations! Graduation is a significant achievement in a student's life.  It is a time to look to the past proudly and to the future with anticipation, hope and excitement.
2020 is a year that has brought about many changes that no one ever anticipated and with graduation approaching it will be especially challenging for students, their families, their teachers and administration. It is so important to recognize our graduates' achievement. It is also critically important to protect the health of everyone during this global pandemic.
Despite these challenges and in spite of how different your transition from completing grade 12 to the next steps of your life will look this year, everyone at the Allan Blakeney Adult Campus want to make 2020 as special for you as we can.
It is true, there will be no ceremonies or events held in person at the school and we cannot have any parades or public gatherings, by direction of the Chief Medical Health Officer.
But this is what we can do! Adult Campus will be celebrating your grad with:
A digital graduation video including: Principal address, recognition of awards, names in recognition of the graduating class, and staff farewell.
A graduation package that will include your diploma, letters of congratulations, and graduation cap.
A Grad Selfie Composite: In your grad package, you will find a "Grad Selfie" instruction sheet.  Using your selfies, we will create a grad composite that will commemorate this year's graduating class in a unique way. 
Graduation Package Pick-Up
In order to adhere to social distancing directives, we are scheduling pick up dates and times for you to come to the school and pick up your graduation package.
If you have successfully completed grade 12 in Quarters 1 and 2 of 2019, we invite you to come pick up your package on the following date:
Tuesday, June 23rd between 12:00pm and 3:00pm
If you have successfully completed grade 12 in Quarter 3 or are currently completing Quarter 4 classes for graduation eligibility for the 2019/2020 school year, we invite you to come pick up your graduation package at the Allan Blakeney Adult Campus on one of the following dates:
Wednesday, June 24th between 12:00pm and 3:00pm
Thursday, June 25th between 12:00pm and 3:00pm
On that day, we ask that you:
Practice social distancing from others (provide 6 feet of space)

Follow direction from staff to ensure safety protocols are followed

Wear items like a mask or gloves, if you feel it necessary.
While we encourage all grads to come pick up your grad package, we also ask that if you are feeling ill, or are experiencing symptoms of illness, to please stay home.  For those that aren't able to pick up packages, these will be mailed out to you, or another arrangement will be made at a later date to receive it.
Since the school pause was declared in March, this has not been an easy few months for anyone. We at Adult Campus understand that many students hoped to cross the stage in celebration of completing grade 12.  While a ceremony cannot take place, you have worked very hard to arrive at this proud moment in your life.  In your own, safe way, we hope you celebrate your accomplishments, and in time, the positive memories you have had may overshadow the fact that we have had to celebrate graduation differently this year.
If you have any questions regarding your graduation eligibility, please contact Jeanne Beauregard or Harvey Basi in Student Support.
jeanne.beauregard@rbe.skc.a
harvey.basi@rbe.sk.ca
You may also contact your current teacher, or the office, if you have questions and we can direct you.
Office Phone: (306) 523-3650
Email: adultcampus@rbe.skc.ca
Congratulations!
Allan Blakeney Adult Campus Staff
High School Graduation Activities Notice
Regina Public Schools supports and acknowledges that the high school graduation ceremony is an important milestone and celebration of students' successful completion of their high school education. 
In recent years, many of our high schools have hosted an additional evening celebration, such as a banquet or dance.   It is important to note that those who participate in these events must respect and follow the same rules, policies and requirements that are followed during in-school activities. All participants in a school-organized banquet or dance, whether they are students, family, or other invited guests, must respect Regina Public Schools' policies, procedures and guidelines.
Additionally, all guests and participants must conduct themselves appropriately and according to the Shared Values of the school division. Failure to comply with this basic requirement may result in an individual being removed from the event and/or notification of the Regina Police Service. For example, if school staff and administration determine that a student, family member or other invitee is under the influence of any substance, such as alcohol or drugs, that individual will be asked to leave and will not be compensated for the purchase price of the ticket for the event.
Regina Public Schools staff takes great pride in hosting graduation activities that honour the achievements of our students.  We also take the safety of our students and employees very seriously. With the support of parents, guardians, and our community, we can celebrate students' great achievements together and create an atmosphere that supports our Shared Values – I belong; I want to know; I am responsible, and I respect. Read about the Shared Values here: http://www.rbe.sk.ca/school-board/mission.
Thank you in advance for your understanding and cooperation.