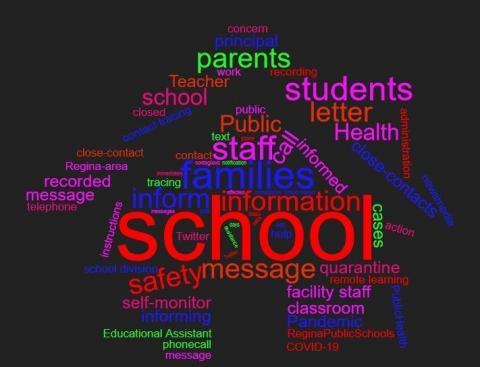 January 20, 2021 -- Ever wondered what happens when there is a case of COVID-19 at a school? A lot of work goes on behind the scenes. After the notification from Public Health, it usually begins with school division and school-based administration identifying potential close contacts in the school. This work is done in consultation with and confirmed by Public Health.
What is contact tracing? We are trying to find out where the staff member or student was on the day that they were contagious. Were they in one classroom or several? Did they go throughout the school or stay in one office? How close did they sit or stand to others and for how long?
Once that has been determined, the school division springs into action. This could be during the school day, at night or on weekends or holidays. To keep all employees and families informed, we follow these steps:
We are informed by Public Health.
We call all school staff and inform them of the specifics and what they may need to do.
School staff and division office staff telephone all confirmed close contacts and provide them with the information they need to know. For instance, do they need to quarantine for 14 days? Do they need to self-monitor, etc.? This work is the responsibility of Regina Public Schools staff.
Once close contacts and staff have been called and informed, communication with the school community, the public and the news media is completed.

If there is a need to immediately contact all school families for their health and safety, or to announce the closing of a school or program, a recording and a set of text messages will be made and telephoned to the entire school community.
In the past, these messages were sent every time there was a case in a school. As of January 2021, these messages will only be used to quickly inform school families if they need to be informed of a change in school attendance or routine.
In the event that telephone and/or text messages are made to close-contact students and/or families, the message will clearly identify if it is a close contact call or an information-only call.
In every case of COVID-19 at a school, school families will be notified by letter, usually on the same day or by the next school day.
Close contacts and affected classes get one letter with instructions for self-isolation or self-monitoring. All school families will receive an informational letter.

If there are any close contacts at a school, following direct communication with those families, the school division will post information on the school's website.
The school division will then inform Regina-area news media who help inform school families and the public. We are grateful for their support and assistance.
The school division's Twitter account is also used to inform families, the public and, after business hours and on weekends, the news media.
Usually by the next school day, the school division will inform all school division employees.
There has been a lot of speculation why sometimes schools are closed, why sometimes it is only a classroom and why, at other times, learning continues as normal. It is all about the close contacts. If the individual who has COVID-19 was out of the school while contagious, nothing needs to be done; we just inform school families. If that individual was in one classroom and there were several contacts, we will inform them and follow Public Health direction, but keep the classroom open. If there were many close contacts in one or several classrooms, we may close the classrooms and switch to remote learning for up to 14 days.
Why do whole schools close?
If there are many close contacts and the potential for further infection is possible, or the disruption to learning is too significant, we will close the school and go to temporary remote learning. The other situation may be that many staff members are close contacts and the school cannot operate without an appropriate number of employees.
We can bring in substitute teachers, educational assistants, facilities staff, administrators and even temporary principals. Sometimes, however, the number of close contacts is too large, challenging our ability to operate the school. At those times, the school may close and students would go to temporary remote learning.
Things to keep in mind
You may get a telephone call or text from Regina Public Schools even if you do not have a child in an identified school or any school.  In rare cases, this is an error. Most likely, if you do get called or texted, you have been made an emergency contact by someone else – a relative, a friend or a neighbour. If you get these calls and you are not an emergency contact, please contact your local school or email info@rbe.sk.ca; provide your name and phone number and we will try to fix it.
If you do have a child in a school but do not get informed, then you are not on our parent/guardian contact list and should be. Please call your local school. They can also help get you set up to get text messaging. These messages are important during the pandemic and also when other important information needs to go out, such as an incident at a school or a cancellation in busing.
Regina Public Schools employees are working hard to create a learning and working environment that is as safe as possible for students and staff. We are also striving to keep our school families well informed and prepared, even on weekends and holidays. The process we follow continues to evolve. We appreciate your patience and your ongoing support!