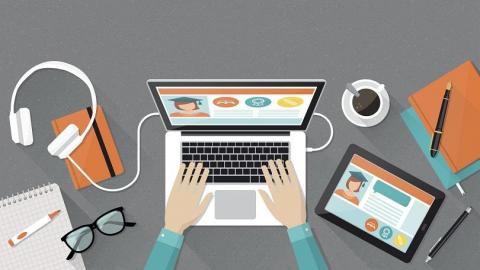 UPDATE FOR STUDENTS -  April 22, 2020
With so much uncertainty in our community, country and world it is easy to feel overwhelmed or unsure of next steps in the coming weeks and months. Regina Public Schools remain committed to supporting the well-being of our students and we continue to encourage students and their families to take the time to pause and to ensure they are taking care of themselves.
We also remain committed to help meet the educational needs of our students. Quarter Four courses have started.  Current students have now been enrolled in their requested courses and should have heard from their classroom teacher via email about starting the distance or online class.  We are asking students to please check  both their school and personal email accounts.  If you still need a class, please forward your request to Harvey or Jeanne in the Student Support Office:
*Also please note that to access Google Classroom you must use your school email:    firstname.lastname@rbe.sk.ca  
Despite schools being closed, we would like you to know that our Guidance Counsellors in the Student Support Office will still be accessible to all our students. If students require additional emotional or social support, you can reach out to them by email (listed above). Emails will be checked periodically and responded to during regular school hours. In the event of a crisis or emergency, please contact Mobile Crisis (306-757-0127), the police department, or call 911.
Please also consider the following community resources that are available to you and your family during this time:
Anxiety Canada

:

free resources related to anxiety, depression, and well-being

 

Kids Help Phone

(free/24 hrs) for mental health information & professional counselling services for youth and young adults (up to 25 years).

Mobile Crisis

 Regina

(free/24 hrs) crisis response and counselling

Regina Crisis & Suicide Line

 (free/24 hrs)

Family Service Regina

 - Professional counselling (video, phone, email)

Planned Parenthood

– still offering health services-see website for details

Sexual Assault Line

(free/24 hrs)

Social Services Income Assistance
211 Saskatchewan

website with over 5,000 listings of social, community, non-clinical health, and government services across the province.

Saskatchewan Health Line

(free/24 hrs)

Cell phone App:

  

Mind Your Mind

 

-  mental health app– helps to educate, cope, de-stress
Students wishing to keep informed about post-secondary information, or other academic-related questions are encouraged to go to Regina Public Schools Website:
                        https://www.reginapublicschools.ca/ 
Go to -  Students – Guidance/Supports  - click on the "document serves as a starting point" under Post Grad Planning.
Note: If you have applied to a post-secondary institution, it is important that you log into your institution account to access the most up to date information, requirements and changes.